Craftsmanship
"Behind each piece of handcrafted jewelry is a golden history of artisans with over 100 years of tradition behind their skill. Each piece is entirely handmade with a unique curation of materials, reflecting hours of craftsmanship and profound design. Passionate about reviving the old, mixing the new, and honoring her familial ties to the industry, Nicole Romano is wholeheartedly committed to Rhode Island manufacturing."
Materials
"When most of Rhode Island's jewelry manufacturers relocated to other parts of the world, the residual aftermath created much opportunity for me as a Designer. Left behind was a spectacular abundance of stones, metal findings, molds and equipment. These raw materials lay dormant for decades. I consistently research, explore and locate vast quantities of items which I utilize in my designs. With foresight, creativity and forbearance, I bring many of these abandoned items back to life as the cornerstone of my creations. I'm passionate about reviving the old, mixing with the new, and continuing to work with many of our state's incredibly skilled makers."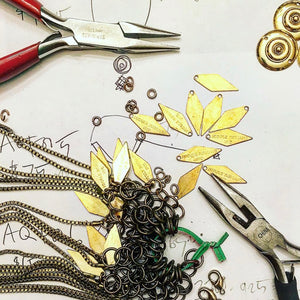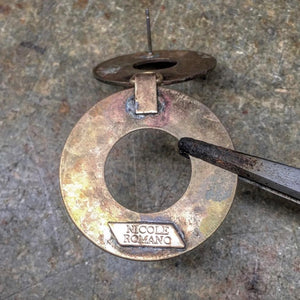 Inspiration
Inspiration is born from my heritage interwoven into the fabric of the Ocean State's bountiful history.The magic happens when mixed with influences from everyday travels, life experiences and monumental moments. This unique combination of influence creates my brand identity. I consider myself a storyteller, utilizing my designs to honor a legacy built by my ancestors of a once-booming jewelry capital of the world. My mission as a designer and artist is to celebrate and support Rhode Island's historical jewelry industry, allowing the community's culture to live on.
New In
Take a look at our most recently added jewelry.