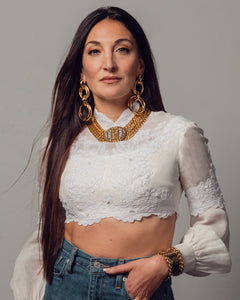 The Nicole Romano Woman
Has a zest for life. Vivacious, daring and confident as she redefines femininity through her individualized personal style. You will see her lovingly wear a mix of fashion and fine jewelry, gold with silver, classic with cutting edge – there are no rules. She enjoys discovering, traveling and collecting; precisely why each piece in her wardrobe is an intentional expression. She is drawn to the boldness of the Nicole Romano aesthetic.
I grew up surrounded by the historical Jewelry District of Rhode Island, my home state. 
The fueling source of inspiration is derived from my family heritage illuminated in our rich history of jewelry design and manufacturing. Enriched and energized by the emigration of these artisans, I found Rhode Island School of Design the incubator for my formal design training.  I graduated with a BA in Apparel Design.  I forged ahead launching my own multidimensional brand with the mentoring and encouragement of Designer Nicole Miller and legendary Sex and the City stylist, Patricia Field.  
I immediately moved to New York City, knowing this is where my dreams would take flight. I was fortunate to fast track my career by presenting my first namesake collection during New York Fashion Week. My deep-rooted love for jewelry came to life as the collections came to life on the runway. As a true Leo, my designs are not for the faint of heart. They began to captivate, gaining much attention by the press, top retailers, and the most stylish women in the world.
I love the creative adventure of a brand collaboration. Among my favorites are Moda Operandi, Anthropologie, BHLDN, Nicole Miller and Serpentine. Appearances on HSN further crystalised the collection's demand, for both the unique design aesthetic and easily accessible price point. 
I was selected as a finalist for Fashion Group International's Rising Star Award in Accessory Design, and later honored with the Wise Woman Award from The National Organization of Italian American Women. Most recently, The Rhode Island State House honored & recognized my pledge to revive Rhode Island's historical jewelry manufacturing industry. My design studio is located in East Harlem, and I live in Newport, Rhode Island with my husband Thomas.
Vogue feature by André Leon Talley
"After my name appeared in the pages of a Vogue feature by André Leon Talley, there was no turning back. 
The jewelry collection gained more attention in the press and expanded into a major part of my design business. I immersed myself into Rhode Island's rich jewelry manufacturing history and found limitless inspiration as I worked side-by-side with master jewelry artisans. My deep familial connection to the industry provided further purpose. At this point, I realized designing jewelry was my love language and my future."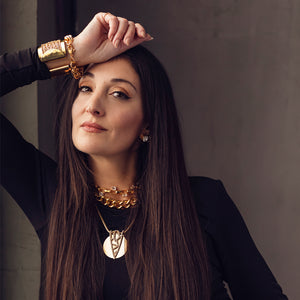 Inspiration is born from my heritage interwoven into the fabric of the Ocean State's bountifulhistory.The magic happens when mixed with influences from everyday travels, life experiences and monumental moments. This unique combination of influence creates my brand identity. I consider myself a storyteller, utilizing my designs to honor a legacy built by my ancestors of a once-booming jewelry capital of the world. My mission as a designer and artist is to celebrate and support Rhode Island's historical jewelry industry, allowing the community's culture to live on.
Wear what moves you
"Keep a festive approach to fashion. Wear what moves you. Whether it's a color you have been looking for a reason to wear, a dramatic hemline, or a bold accessory - one can never wear too much jewelry in my book!"
Since standard jewelry compartments rarely fit my favorite pieces, I designed a structure that looks like a baker's rack, with many shallow, sliding trays. My more frequently and less ideal method is layering my bedroom furniture with my current rotation of gems!